According to data collected from the Virginia Department of Motor Vehicles, there were 827 victims killed in vehicle accidents in 2019. Data also reveals that there is an average of 180 people injured in car accidents every single day in the state. The Virginia personal injury attorneys from Shapiro, Appleton & Washburn represent many of these victims, pursuing damages for the losses our clients have suffered as a result of their injuries, and ensuring they receive the best possible outcome based on the circumstance of their case. While there are many reasons why car accidents occur, the following are some of the most common factors that contribute to these crashes.
Close to home: Statistics show that car accidents are most likely to occur within five miles from a driver's home. This is often due to the fact that the driver is overly comfortable and familiar with the area so they may not pay as close attention to the road as they do when driving in areas unfamiliar to them. Backing out of their own driveway and hitting a passing car is also fairly common.
Intersections: Many vehicle accidents occur at intersections, especially those without traffic signals or signage. Side-impact collisions – also referred to as T-bone crashes – are a frequent type of intersection accident, as well as one of the deadliest.
Parking lots: Although speed limits are much slower in parking lots compared to roads and streets, the lack of traffic rules in parking lots ends up creating confusion and crashes. There is also a high risk for pedestrian accidents in parking lots, especially if the driver is too focused on finding a parking space and not on the people and other vehicles around them.
Roads with two lanes: Busy two-lane, non-residential roads are one of the most common places where head-on crashes occur. This is often due to the fact that one vehicle may attempt to pass the slower driver in front of them – either legally or illegally – by driving into the other lane in order to pass the slower vehicle, except they fail to see the vehicle coming the other way or misjudge how much time they have to pass the slower vehicle.
Rush hour: It probably won't surprise too many drivers that the morning and evening commutes are also one of the most frequent factors in car accidents. There are many more vehicles on the road, with stressed and/or tired drivers behind the wheels. Morning commuters may be running late and rushing to get to work, while evening commuters are often very focused on just getting home after a long day. The most dangerous times for being on the road with a higher risk for crashing are Monday through Friday, between the hours of 6 am to 10 am and 4 pm to 8 pm.
Stop signs: Failure of a driver to come to a complete stop at a stop sign is also another frequent type of crash we see at our personal injury law firm. This includes stopping in time. Stop signs that are hidden or partially blocked also pose a danger.
Traffic lights: Rear-end crashes are one of the most common types of car accidents at traffic lights when the driver in the rear fails to stop in time and hits the vehicle in front of them. This type of crash can also result in a chain reaction accident, which now results in a multi-vehicle accident and multiple injuries.
Contact a Virginia Accident Attorney
If you have been injured in a car accident caused by another driver, contact a Virginia Beach car accident attorney to discuss what type of damages you may be entitled to. At Shapiro, Appleton & Washburn, we have successfully obtained compensation for medical expenses, lost wages, pain and suffering, and other losses our clients have suffered. Call us today to find out how we can help you.
RELATED CONTENT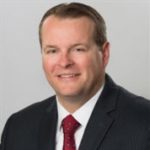 An experienced personal injury attorney with dual licensure in Virginia and North Carolina, Eric Washburn received a B.B.A. in Finance from James Madison University—initially worked in the information technology field before obtaining his law degree from Thomas M. Cooley Law School in Lansing, Michigan. Once an Assistant Commonwealth's Attorney in Danville, Va., Eric has been recognized by Super Lawyers Magazine as a "Rising Star" Super Lawyer in Virginia since 2014.